"Kuri Aruthen" is Transgender rights activist Kalki's first poem collection. This collection explores the emotions and lives of transgender individuals and was published by Vikatan publications in the year 2015. Kalki is an actress and she founded the NGO Sahodhari that works for the welfare of trans persons. 
---
"Antharakanni" (2013), the first poetry collection in Tamil on lesbian love by independent filmmaker, poet and writer Leena Manimekalai. Springing from Tamil folklore, her twilight poems are enchanting with lesbian women sensuality. Along with her poems, it has free hand translations of 'balaclave' poems of Pussy Riot, the feminist punk band of Russia and June Jordan's "I Am Not Wrong".
---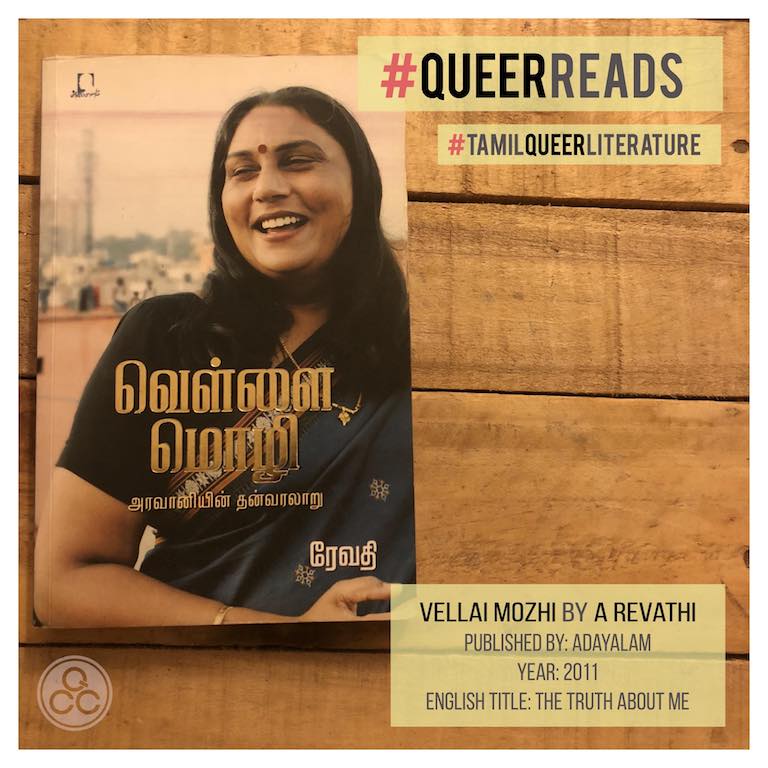 Vellai Mozhi is an autobiography book in Tamil written by A Revathi. Revathi talks about her journey as a transgender woman in India. She also narrates the social and personal experiences that she had to undergo as a transwoman. The book was translated into English by V Geetha; titled – The Truth About Me. The book was also translated into Kannada. The book has been described as a work that "focuses on gender equality and furthers feminist discussions" (Kalachuvadu, issue 149, page 71, year 2015).
---
Moondram Paalin Mugam (2008) is written by writer and documentary filmmaker Priyababu. The book is the first novel written by a transgender person in Tamil. The book narrates the life of Barathi, a trans woman, from a middle class Tamil family.
Growing up in a protected environment, Barathi explores her gender identity in isolation. She slowly gets introduced to the transgender community in the locality and learns about the hardship and the discrimination the community faces through her personal journey and by seeing her friends lives in the margins of the society. Her mother eventually comes to term with Barathi's gender identity with the help of a social activist. Barathi completes her education with the support of her mother. After transitioning she is rejected by her family members except for her mother.
The novel ends with Barathi setting up support groups to empower the transgender community. Listen to Priybabu speak at the Chennai Queer LitFest on queer literature and publishing.
---
Theatre artist and poet Living Smile Vidya curated seven short stories in the book "Mella Vilakum Panithirai", in an effort to introduce Tamil literature works to the readers that show trans lives in positive light. The stories were written by writers Ki Rajanarayanan, R Natarasan, Paavannan, Latchumanapperumal, Barathi Thambi, Sudha, Dindugal Tamizhpitthan and Kavin Malar.The book was published by Barathi Puthakalayam in 2013. The preface written by Living Smile Vidya for the book was read as the Keynote in the QCC Queer LitFest, Chennai 2018. To watch the Video: https://youtu.be/p79O3qBidT8
---