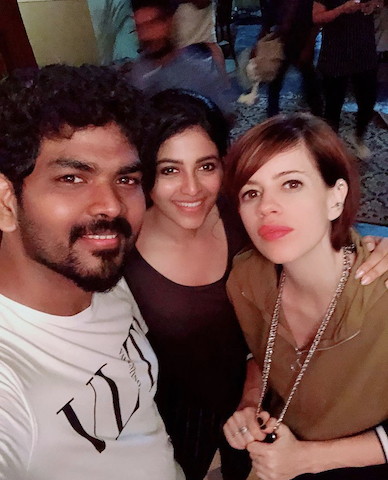 'Paava Kadhaigal' a Tamil Anthology by Netflix was released on 18th December 2020.The anthology was much anticipated for the cast and the crew, especially the directors. There has been much written about the four short films in the anthology. This article is not about the anthology itself but rather an analysis of the creative talents behind one of the episodes titled "Love Panna Uttranum" by Vignesh Shivan, and their promotional interviews before the release of the movie on Netflix.
Love Panna Uttranum talks about honour killing. The film has Anjali, Kalki Koechlin as the leads and Manikandan, Jaffer Sadiq, Padam Kumar and Tony Sebastian in the cast. The film is about a man who is consumed by casteism, but projects himself as egalitarian for his political career to everyone except for his closest henchmen. Vignesh Shivan has carefully crafted it in such a way that there is no backlash from any religious groups as the idols Veerasimman and his men worship do not relate to any particular religion. Veerasimman has twin daughters, who are both in relationships they know that their father will not approve. Aadhilakshmi lives with her father and is in a relationship with her father's car driver. Vignesh Shivan baits queer people by making them believe that the other sister Jothilakshmi is in a relationship with another woman. No surprise that Vignesh casted Kalki Koechlin (white woman, who grew up in Pondicherry in Southern India) in this role. To most of the Indians and especially Tamils, queerness is either an urban or white issue that "came" from the Western society. The sisters decide that it is time for their father to know about their respective relationships. If they escape their father's casteism is apparently told with "dark comedy".
When Paava kathaikal trailer was released, Vignesh Shivan's film seemed like it was about two women in love with each other. His interviews hinted towards this as well. After watching the trailer, as a queer person I found it really empowering when Kalki Koechlin's character says "Naanga love pandrom" (We are in love) pointing at Anjali's character. It got me all excited and I told myself "It was about bloody time" and I'm sure a lot of Queer Tamil people felt the same way. My excitement was diluted when I watched the director's interview on YouTube. Why?
In one of the interviews [1] with Film Companion South, the filmmakers talk about going out of their "comfort zone" and doing something that they have "never seen" before. I know these words are thrown around a lot in Tamil cinema interviews and it doesn't really mean anything other than marketing and spin. Interesting choice of words when you make movies about people from marginalised communities. These words, though may feel harmless to a cis-het male, it continues to alienate us from our own people.
Gautam Vasudev (I'm not using his caste name but you know who I mean) dives in and says Vignesh Shivan has created a 'new genre'. Another interesting choice of words. Are queer persons a spectacle to them? One might feel that we are 'sensitive' and we are reading too much into it, but unless we point out these mistakes, we cannot collectively work and live together. It defeats the purpose of making a movie like this.
Gautam and Vetri Maaran both (laughing at this stage) say that Vignesh's movie thumbnails will "pull the audience". They both say that people will watch Vignesh's movie first. It was disappointing as it sounded like clickbait back when the trailer came out but proved to be right after watching the movie. It was indeed clickbait. It is not unreasonable to expect political correctness from an inclusive and intelligent filmmaker like Vetri Maaran who made a gem like "Asuran" and who was the only person in the Paava Kadhaigal trailer launch to wear a facemask amidst the pandemic.
I know (at least in Australia, where I live) that it's about pandering to straight men's needs. They love watching two women make out but cannot stand two men kissing. I say this because dating shows like Bachelor in Paradise Australia and Love Island Australia have had men drooling over 2 women making out and making lewd comments about them. Although this may not be the intention, I felt like it's objectifying women (again) in Tamil cinema. Comments on Paava Kadhaigal trailer in YouTube and other platforms are proof. Cis-het men have commented on the trailer saying how "hot" it was to see two women make out. Several "memes" floating around the internet based on screen caps of Kalki and Anjali lying next to each other and kissing are proof. Women have always been objectified in Tamil cinema. These scenes perpetuate the same attitude towards women, their bodies that Tamil cinema and Indian cinema have historically done. It is all about pandering to the "male gaze".
In the scene where Kalki and Anjali kiss, the camera switches to every single man in the room. They all have the same reaction – salaciousness. Now do you think the reaction would have been the same if they were two men kissing? Food for thought.
Vignesh then says he is 'scared' because his parents will watch it. A filmmaker made a movie about a 'sensitive topic' (their words) and is now scared what his parents will think of it. It made me wonder if this was all for fame and appreciation. Does the filmmaker even believe in his movie and the subject he has handled?
In another interview [2] with Cinema Express, the interviewer asks Vignesh Shivan if this is the first ever Tamil movie to show two women kissing. Vignesh says that he usually "fast-forwards such scenes" or "closes his eyes". One might say that he was joking, but this is not something you make fun of. This sounds more like boys' locker room jokes. First off, if you have really consulted with queer people and learnt anything from them, you will not be joking about this. If a creator who wants to be inclusive and then turns around saying he will skip kissing scenes featuring same-sex couple or closes his eyes, it comes across as being homophobic, ignorant and him being a prude.
Let's take a Hindi movie interview for comparison. This rapid-fire interview with actors from "Shubh Mangal Zyada Saavdhan" [3] is an example. Maanvi is asked by the interviewer what will be her reaction in real life if her husband says he is gay to which Maanvi says that her husband will never "turn" gay. When the interviewer asks the reason for her confidence, she points to her body (whatever that was supposed to mean). Do you think the filmmakers and actors would spew garbage like this if they had consulted with queer people? If they have twisted understandings on the subject matter, how are they supposed to enlighten the audience?
Coming back to "Love Panna Uttranum", I acknowledge that Vignesh Shivan wanted to do a "dark comedy" but these are queer lives we are dealing with. Watching the trailer, we were baited into believing that this story was going to be about us. This is not new, historically we have been made fun of in Tamil movies like Goa and Iruttu Arayil Murattu Kuthu and now Tamil/Indian cinema has morphed itself into baiting queer people while still retaining their sheer ignorance to make fun about our lives and existence. This movie was like a kick in the gut as it completely erases the queer oppression and struggle by throwing a "dark comedy" spin on it.
Anjali's character in the movie says that she "started liking girls" because of her father and his political violence which thereby led her to dislike men. Vignesh Shivan said that he consulted with director Ameer and Mari Selvaraj who are both cis-het men. Where was the LGBTIA+ consultation? Ameer is also known for his vocal homophobia.
Unless we have queer creators writing and directing queer stories, misrepresentation will continue to surge. Unless creators start consulting with the LGBTIQA+ community before making movies about our people, this will not improve. We will continue to have ignorant and homophobic movies being made to cater for the cis-het people in the name of "dark comedy".
[1] Link: https://youtu.be/AW0kSOFlyRg – Timestamp referred to: 16:00 to 17:00
[2] Link: https://www.youtube.com/watch?v=LBOU4EtGNaY – Timestamp referred to: 14:00 to 14:30
[3] Shubh Mangal Zyada Saavdhan – Rapid-fire video – Timestamp referred to: 2:45 to 3:00