From the archives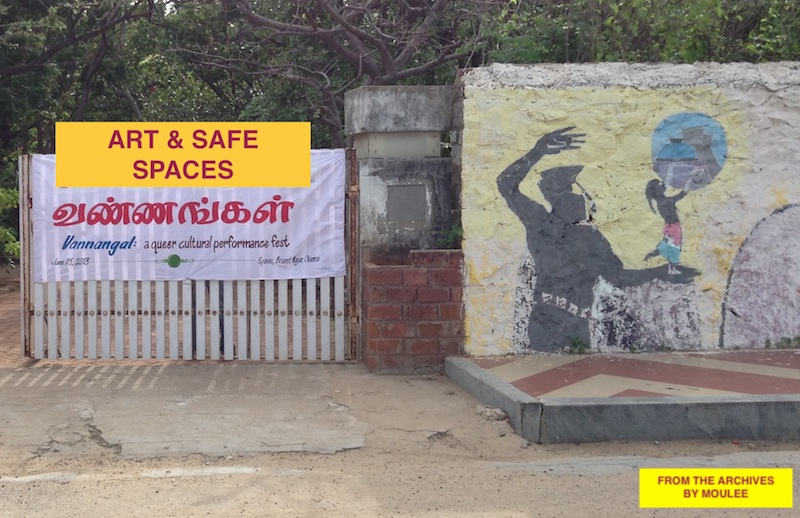 A friend once said "Cultural activities are a way to bring awareness among people". If we look back into our freedom struggle, its only through street plays and other cultural activities did our leaders spread the freedom movement. Later movies played an important role in defining politics and landscape of our country.
He recounted on how people from villages contacted him to join his drama troupe once they knew it harboured queer people. Most of them saw drama troupes as a safe place from the highly critical society. Artists played characters of opposite gender with ease and it was acceptable in their world. They were not discriminated nor labelled, they were plain artists.
I did not realise what he said until recently when I witnessed it at Vannangal, a queer cultural event, held on Saturday, June 15, 2013, at Spaces, Besant Nagar, Chennai. It was truly heart warming to see the queer community come together to celebrate the difference in them, to make a difference. The event was part of Chennai's Fifth annual Rainbow Pride celebrations.
Vannangal was held at Spaces in Elliot's beach — where most of the Chennai head to on a weekend. It was interesting to watch unsuspecting people's reaction who walked into the venue not knowing what happened there. Most of them were families. While few walked away after they realised, few stayed back to enjoy the event.
One such middle aged couple sat next to me. It was 9.30 PM and the venue was almost empty.
The last and the eagerly awaited performance of Yalini Dream was due.
I heard the husband tell his wife, "Polama? Idhu bore'a irukkum pola" (Shall we leave?, I guess this would be boring) — the wife did not respond.
From his tone, I sensed, he was not comfortable being there.
He repeated, "Polama?" (Shall we go?)
The lady replied, "Irunga enna avasaram?" (Wait, what's the hurry?)
By the time, Yalini performed 'The story of a butterfly and firefly' — a love story between a butterfly and a firefly. The mesmerising performance made everybody wanting more and made the uncomfortable husband forget where he was.
Yalini made her second performance, 'The marriage' — story of a South Asian lesbian woman and the family pressure on her to get married. The auditorium was filled with silence. Somewhere in the middle of the play, the lesbian character said; "I thought one of the benefits of being a dyke was that you don't have to get married".
The woman next to me started to clap, when she realised it was only her who clapped, she stopped. That gesture which happened in a second explained a lot.
I remembered what my friend said. The woman could have been anyone, someone who enjoys art, an ally, a sympathiser or a person in need of safe space.